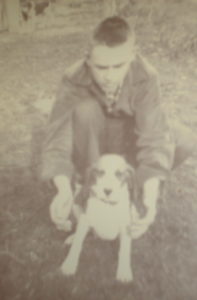 (GLEN AND PATSY My First AKC Great Rabbit Dog)
Starting at age 14 while still in high school, over 64 years ago, I raised and sold registered beagles. I have kept beagles ever since.
While most beaglers only last a few years, we have been in the the beagle business approximately 25 years on a full-time basis- and we're still going strong.
We have the the largest beagle kennel in Southern Illinois. We run a full-time operation selling hounds to many people throughout the United States. Some travel many miles to see my operation and watch their style of beagle run and then choose the hound that suits them. We can ship beagles by ground or air if you can't make the trip. It's better if you can watch the dogs perform. You are encouraged to bring along your best and put it to the test.
I show all dogs here in the field. You can see them hunt, jump and run rabbits. We shoot over all dogs in the field.
I train only my own dogs. I do not start-train or condition beagles for anyone. I have a 1/4 acre and 2 acre pen for starting pups. We also use 5, 10 and 40 acre pens for running dogs. We do run some beagles in the wild.
We have field champions for stud service. The cost is $200. per breeding. A brucellosis test is required.
We offer AKC registered running beagles: medium, medium-fast and fast (no real slow dogs); 1-6 yrs. old. Prices vary according to age, ability and blood lines. Please call for price. Our specialty is AKC Field Champion bred  Started And Train Rabbit  Hunting Or Field Trials.
If you need a good AKC gun dog for field trials or if you just need a good rabbit dog, you need to give me a call.
-Glen Johnston